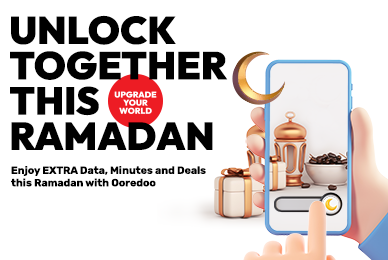 Enjoy the Holy Month with great deals
Unlock our great Ramadan deals across our wide range of products and services. From bonus data to extra Nojoom Points and everything in between, all our customers can unlock something special during Ramadan.

Unlock roaming with Shahry + and Qatarna +
Learn more
Unlock worry-free travel to Saudi Arabia with Ooredoo! During Ramadan, our Shahry + and Qatarna + postpaid customers can use their local data and calls while roaming in Saudi Arabia.
Terms & Conditions

Enjoy access to four Islamic channels
Ooredoo ONE plan customers can unlock four Islamic channels during the month of Ramadan:
Almajd Holy Quran (Channel number 161)
Almajd Al Hadeeth Al Nabawy (Channel number 162)
Al Quran Al Kareem TV (channel number 165)
Saudi Sunnah (Channel number 167)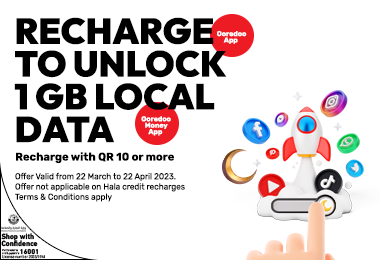 Unlock local extra data with Hala
Go to the app
Unlock 1GB extra local data when you recharge your Hala with QR10 or more via Ooredoo App or Ooredoo Money
Terms & Conditions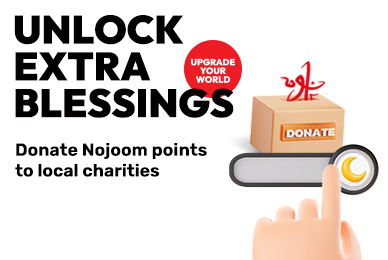 Give back this Ramadan with Nojoom
Ramadan is the season of giving and you can give back with the Nojoom Points you've earned this year!
Donate your points to our valued charity partners and help them continue to provide incredible outreach to those in need in Qatar and abroad:
Qatar Charity
Qatar Red Crescent
Education Above All
Silatech
Qatar Cancer Society
The charities will convert your donated points into funds.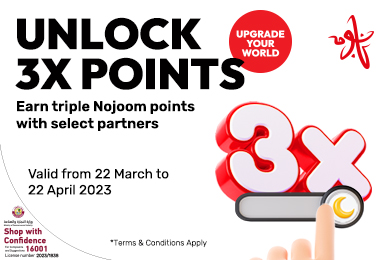 Get TRIPLE Nojoom Points this Ramadan!
That means up to 6 Nojoom Points per QR1 you spend during the Holy Month!
Nojoom members can redeem their points on our products and services, as well as those of our partners. Or donate your points to charity this Ramadan – the season of giving.
During Ramadan, members can get earn extra Nojoom Points at:
Terms & Conditions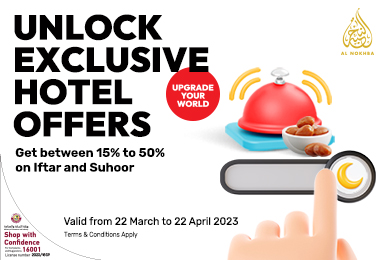 Exclusive Iftar and Sohour discounts for Nojoom Al Nokhba members
We are happy to present our Iftar and Sohour deals from our partners, exclusively for our valued Nojoom Al Nokhba members, for the full month of Ramadan.
It has survived not only five centuries, but also the leap into electronic typesetting, remaining essentially unchanged.
To avail these offers, simply present your Nojoom Al Nokhba member via the Ooredoo App when requested. Ts&Cs may apply as per the provider.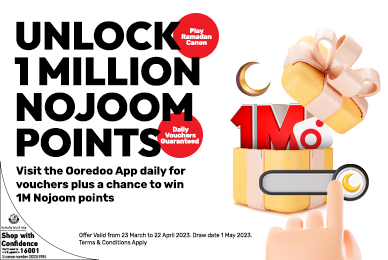 Play our Ramadan game (Ramadan Cannon)
Go to the app
Ooredoo Qatar customers can enter the competition, Ramadan Cannon, via the Ooredoo App!
The main draw prize will give one winner 1 million Nojoom Points!
Every day during the promotion, participants will have access to vouchers and tickets if they successfully play the game.
Tickets will be given to each participant daily with the submission of the correct answer. Play the in-app game to receive the voucher.
Answer the daily question correctly or guess the photo correctly – in the different available games – within 30 seconds to earn more tickets towards a chance to participate in the draw for the main prize.
Terms & Conditions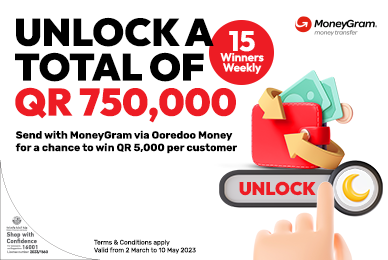 Enter the prize draw
Learn more
Unlock your chance to win QR5,000 in our weekly draws, with a total prize fund of QR750,000!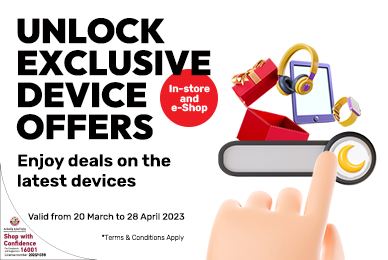 Unlock great deals on devices!
Buy now
Unlock special prices on a wide range of devices, from smartphones and wearables to Wi-Fi devices! We offer you the following devices:
iPhone 14, iPhone 14 Plus, iPhone 14 Pro and iPhone Pro Max
Apple Watch S8 series
Samsung S23
My-Fi
Offer available at the Ooredoo eShop and in our Ooredoo shops this Ramadan from 20 March to 28 April 2023!